Remember 2006 when Time's Person of the Year was You? Not an inspiring humanitarian, or loathsome dictator. It was me and you. Some considered the selection perfect, others said it was a cop-out.
Personally, I thought that Marco Materazzi should have been 2006's Person of the Year for taking that epic head butt from Zinedine Zidane and helping my Italians to their 4th World Cup title.
But TIME didn't pick Marco, it went with "You".
The selection was an acknowledgement that, thanks to the internet, everyday individuals around the world had the ability to gain exposure, wield influence, and generally take the world away from the "Great Man" theory of history.
One can't help but notice that TIME's cover image is specifically a depiction of YouTube. The video hosting platform was relatively young at the time, but was already making major waves and had been purchased by Google less than two months prior to TIME's person of the year publication.
So here at Pex, we decided to leverage our technology to provide a "State of the YouTube Address." Here are a few high-level insights into the size of the platform, its usage, and growth.
Current YouTube Overview:
By May of 2018 YouTube had just celebrated its 13 year anniversary. From its first upload of "Me at the zoo" on April 23, 2005 the platform has grown to host over 4.2 billion videos combining for over 22 trillion views.
Breaking down these 4.2 billion videos by category gives insight into the broad utilization of the site. Here are the platform's 10 largest categories, and what percentage of YouTube video uploads and views fall into each.
By far the most videos have been uploaded under the 'People & Blogs' category, while the largest garner of views is 'Music'. However, it needs to be noted that 'People & Blogs' is the default category when uploading to YouTube. So it's likely that a great many people uploading content don't bother setting the category and thus inflate 'People & Blog' figures.
Category Insights:
Changing YouTube trends are seen when looking at the videos uploaded to each category by year:
The rise of the 'People & Blogs' category began in 2013, and grew to account for over half of all YouTube uploads in 2016. The 'Gaming' category has steadily been on the rise since its inception in 2007 and overtook the 'Music' category in 2015 for the 2nd most videos uploaded that year. Thus far in 2018 'Gaming' has accounted for nearly 1 in 5 videos uploaded to YouTube.
We also dug into category consumption by age group. The below chart is built from a panel sample of YouTube consumption over 2 weeks in March of 2018. It displays the percentage of all YouTube consumption coming from each category and age group.
While overall YouTube usage skews towards younger generations, it's clear that the average audience age changes by category. The four biggest categories (Music, Entertainment, People & Blogs, Gaming) all skew younger. Gaming has the largest skew with 81% of consumption coming from those under 35.
Education, Howto & Style, News & Politics, and Sports all balance out nearer 50/50 consumption between the under 35 and 35+ populations.
Video Length Growth:
Not only are YouTube users uploading more videos than ever, but their videos are getting longer as well. As the graph below illustrates, the average YouTube video length has increased from just over 2 minutes in 2005 to over 15 minutes today.
With increasing uploads, and increasing video length just how much content is being uploaded to YouTube right now? 563 hours per minute! To consume that much content you'd need to watch all of Game of Thrones 8 times, and then come down off that octo-throne-binge with a casual watching of every Harry Potter movie, and then the LOTR and Hobbit trilogies (director's cuts of course).
This is a staggering figure. If the GoT-Potter-LOTR binge watch analogy didn't put it in perspective, then think of it this way – in 2017 Netflix planned to produce 1,000 hours of original content and budgeted around 6 billion dollars to do so. Now consider that in the 2 minutes you've been reading this article more than 1,000 hours of content have been uploaded to YouTube!
That breakneck pace is only accelerating. The graph below shows how the pace of content uploaded to YouTube has grown exponentially since its inception.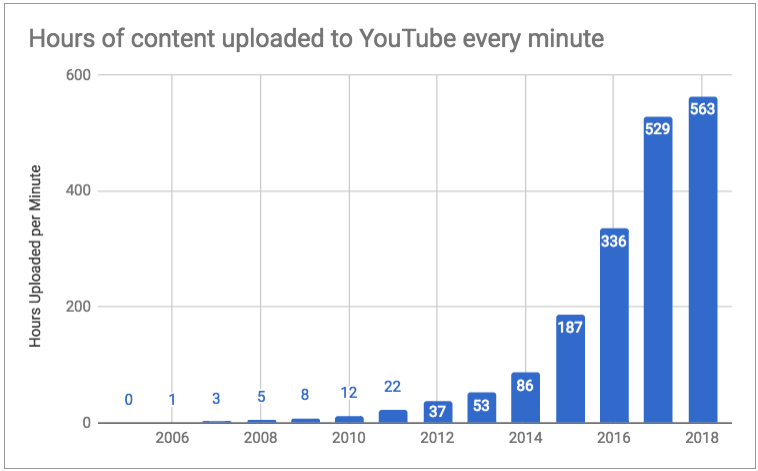 2018 YouTube Growth:
YouTube's incredible growth is only highlighted by examining the first 4 months of 2018.
At the end of 2017 there were over 3.8 billion videos on YouTube. By May of 2018, over 400 million additional videos had been published! That's over 10% growth in videos hosted by YouTube in just 4 months.
YouTube is growing even faster in terms of video views. Over the same 4 months there have been over 3 trillion (yes, trillion with a T) views on YouTube. That represents a 16% increase in all time YouTube views.
Breaking down video and view growth by category, one can continue to gain insights into the evolving usage of the platform. The table below shows the growth each category has experienced over the first 4 months of 2018 according to videos uploaded, and video views. The column '% Evergreen' shows what percentage of new views came from viewing old content published prior to 2018.
The Gaming category is growing fastest in terms of video uploads, while People & Blogs is gaining the most steam according to viewership.
% Evergreen backs up our intuition on several categories. We observed earlier that the Music category accounts for 25.8% of total YouTube views, but only 9% of uploaded videos. That observation is backed up by the fact that in 2018, 83% of views of the Music category came from videos published prior to 2018.
Sports and News & Politics on the other hand have the lowest % Evergreen scores. This makes sense given the current events nature of those categories. The growing Gaming category also has a low % Evergreen score as viewers are tuning in to see only the latest games and strategies.
At Pex we work with analysts, content creators, curators, marketers, and mavericks. All of which are interacting with and trying to understand their content's place in the evolving ecosphere of YouTube and dozens of other social and content hosting platforms. We hope this "State of the YouTube Address" helps you to see the YouTube forrest for the trees.
If you have questions we can address in a future post then let us know. Or if you're curious as to how Pex could help your business, then drop us a line.